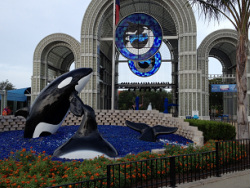 Sea World San Antonio entrance
We have a new addition to
Travel Goal Getter's Animal Experiences List
-
Get splashed by a Killer Whale at Sea World San Antonio
. Many people are aware of Sea World in San Diego and in Orlando - but many are surprised when I mention Sea World in San Antonio, Texas. It is an amazing 250 acre park - larger than San Diego Sea World (180 acres) and Orlando Sea World (200 acres). Sea World San Antonio admission prices are considerably less than the others parks - as much as $35 less per adult ticket depending on on-line discounts offered on the
SeaWorld San Antonio website
. Yet, it has the complete line-up of shows, animals, and amusement park rides.
The park was clean and easy to get around. Like most parks - a map and showtimes are available as you enter the park - however we were glad we read up about the shows before we got there so we knew which ones we wanted to attend the most. The crowd was light on the day we visited, Monday, July 8th. We were able to easily see the animals for as long as we wanted. The shows were well attended, but we had no problem getting a good seat shortly before showtime. There was no more than a 10-15 minute wait for rides. It was a great day - we arrived around 10:30 a.m - shortly after the park opened - and left at park closing time, 9:00 p.m. A full day of fun!
Animals
- SeaWorld may not have as many animals as most zoos - but it really showcases the animals that it does have.
Dolphins
- Dolphin Cove had about 8 dolphins swimming in a pool where you can just about touch them if they swam close.
For an additional fee of $12 and a reservation you can touch a dolphin and get a great photo op.
Sea Lions
- The sea lions were a riot to watch. Everyone can watch and hear the sea lions bark as they hope someone will drop something into their open mouth. - Food to feed them is available for purchase.
Penguins and Puffins
- This exhibit was most "zoo-like" with the animals behind glass walls - but these amazing creatures are always interesting to watch. For those who would like more direct animal contact you can schedule an
animal encounter
. Sea World Antonio offers one of the few programs in the world in which you get in a wet suit and directly interact with a sea lion in the water. It has similar programs with dolphins and the beluga whale. Prices for these type of programs start at around $160. They also offer other animal interaction where you aren't actually in the water but have close contact around $60 depending on the program. We like that they offer many special programs for animal experiences at different price points.
Shows
- Also unique to Sea World, compared to most zoos, are the shows. My favorite was the
Shamu Rocks
show that is performed each day at 8:00 p.m. just before closing. Watching the trainers interact with such big and beautiful animals was truly breath-taking. If you want to really get splashed sit in the rows just high enough to see above the tank. Otherwise all seats are great. Another favorite was
Cannery Row Caper
a comedy show with sea lions, otters, and a walrus. Funny story, funny animal tricks. For a wet surprise - sit in front in the middle section.
Tip
: Seafire Grill is close to the Sea Lion stadium. We purchased a meal there and were told we could take our food on our trays to the show. We didn't even have to take a break to eat! We also watched
Azul
a beautiful, artistic show featuring the beluga whale, dolphins, and parrots, but was mostly amazing divers and a trapeze artist.
Cool Vibrations
is a comedy, water ski/water toy show. Funny and lots of cool tricks. If you sit in in the front rows you will get soaked...multiple times. Although the shows were great, 4 shows was plenty for one day.
For younger kids, we would highly recommend the Sunny Days Celebration Block Party in the evening at the Sesame Street Bay of Play. We couldn't believe all the characters - Big Bird, Bert and Ernie, Rosita, Telly, the Count and more. The crowd was small enough so the kids could actually dance with the characters.
Amusement
- There are 5 main rides at the park. The Steel Eel, the Great White, and Journey to Atlantis are thrill-seeking rides that deliver. Rio Loco is a water ride that is fairly mild and enjoyed by people who don't mind getting wet. Sesame Street Bay of Play was great for younger kids with a handful of kid-sized rides. Only ride the mini-ferris wheel if you have extra time. Even with a short line, loading and unloading takes a long time. The Shamu Express coaster is mild and will bring a smile to most kids. We wish there was a ride that provided more action than the kid rides and Rio Loco but not as scary as the Great White or Steel Eel. The Journey to Atlantis was our favorite. While some of our group went on the ride, our youngest could stand in the splash area and get soaked by the ride. Child swap worked great. The person waiting to ride waits at the exit by the splash area until the first rider(s) are done. Then they just enter in the exit and tell the employee they had a child swap and they are let on the ride.
Tips
:
When you sit in a splash zone, you may get splashed, but more likely, you will get drenched! You will be doing a lot of walking but highly recommend wearing a type of shoe that can get wet and can dry out. We didn't and ended up with water blisters and smelly shoes.
Bring a swimsuit for young kids to play in the water area at the Bay of Play.
The rules state that you cannot bring water and food into the park. However - they DO allow it in small amounts. Everyone in your party can bring in a water bottle or drink - but it can only be the normal 16 oz size. If it is larger bottle you will not be able to bring it in -- even if it is only 1/2 full. We were permitted to bring some individual size small snacks, but saw that other people were not allowed to bring in a full size bag of chips. Check the Sea World website for more info about certain items.
All in all, we enjoyed SeaWorld Antonio for the animals and the amusement! Check out other
Travel Goal Getter Animal Experiences by state
. If you have one to add, let us know! While you are in San Antonio make sure you visit the
Alamo Historical site
and the famous
River Walk
!
Author: Alicia. I visited Sea World Antonio in July 2013 with my family of 6. SeaWorld provided complimentary tickets for some of us, but please know that all opinions and experiences expressed are my own.