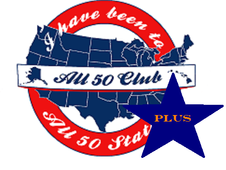 We welcome Leonard from Erie, Pennsylvania to the All Fifty Club. He is 99% complete with a project to not only visit all fifty states but all American cities with a population over 100,000 people. As he says, it is "All Fifty Plus!" His initiative began in 2006 when he attended a 45th reunion of his high school. As he looked through the reunion booklet he saw that his former classmates were scattered across the country and thought it would be fun to visit them. So far he has visited more than 20 classmates. During his planning he expanded his "travel project" to include visiting the approximately 300 cities over 100,000, every state capital and the largest city in every state. Planning ahead – he even thought to visit cities that were close to the 100,000 mark in case they grew in population before he completed his tour! He also has set out to visit every city named "Erie" since he is from Erie, PA, There are at least 6 - Erie, PA, Erie, IL, Erie, CO, Erie, KS, Erie, MI, and Erie, ND Curious about other common city names?
Check out our new Travel Goal Getter Top Toponyms page
. Thanks for the travel inspiration Leonard and best of luck on completing your travel goal!