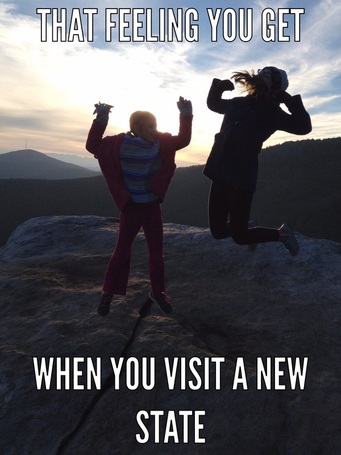 We travel because we love to travel, but we also enjoy the sense of accomplishment. We love that we wanted to go somewhere and we did what it took to get there. Traveling to each state in the United States isn't easy. It isn't something that you do on a whim. You have to plan. You have to make sacrifices. It takes money and vacation days. It requires endless perusing of maps, guide books, reviews, and websites. It is all part of the fun of working on the the All 50 goal. Once you have set this goal, you want to keep track of your progress. It is nice to have an easy way to see how many states you have been to and how many you have left to go. Then not only do you have the joy of a trip to a new state but you have the joy of marking it off your list, your iPad map app, scratch map, sticker book, magnet, etc. We have been searching high and low for some awesome travel trackers and are excited to offer the best ones we found. May you find satisfaction in knocking off another state soon!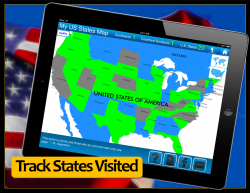 Travel Goal Getter iPad app
available on iTunes for $2.99
We created the iPad app because we wanted an upgrade to our usual tracking method - a scrap of paper! The app allows you to click which states and countries you have been to as well as places you would like to go next. It has been as high as the #15 Travel App.
USA Magnetic Puzzle Map

available at the

Travel Goal Getter Store

$16.50, free shipping

We love this map for tracking because it is so easy to use and re-use. When the state magnet is not in place, the state is a solid color - so the map looks great whether you have been to a lot of states or just a few. Each state is its own magnet except for a few of the northeastern states which can be cut apart with small, sharp scissors. The magnets can also be pieced together into a full USA map on the refrigerator. 16 3/4" x 11"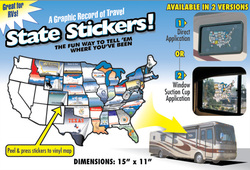 USA Removable Sticker Map
available at the
Travel Goal Getter Store
$22.00, free shipping
This map was originally designed to be displayed on RVs but it also works for the rear window of most vehicles. You can mount it on the exterior or with suction cups in the interior. Weather resistant and easy to use. 15" x 11"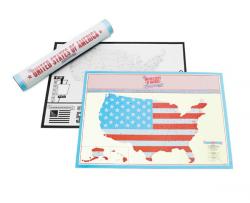 USA Scratch Map
available at the
Travel Goal Getter Store
$22.00, free shipping
The top of the map is coated in a subtle stars and strips foil . (like what you would get on a scratch lottery card) Scratch off each state as you go to reveal colors and details.
16.5" x 11.5"
USA Map Sticker PIcture
available at the
Travel Goal Getter Store
$8.00, free shipping
The USA Sticker Book is a simple way to keep record of where you've been. The stickers are removable so they can be used over and over. Fun for kids in the car. It can be pinned up, but there is a crease down the center to allow the map to fold.
All Fifty Club Removable Vehicle Sticker
available at the
Travel Goal Getter Store
$8.00, free shipping.
All Fifty Club created this removable sticker so members would have a smaller way to keep track. 5" by 7" It can be removed and placed again. A permanent marker (not included) can be used to mark what states you have been to.
Photos
All photos courtesy of Travel Goal Getter.
"Feeling you Get" photo was taken in North Carolina along the Blue Ridge Parkway.