Author: Alicia Rovey, All Fifty Club President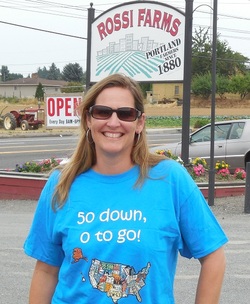 My 50 state quest is finally complete! I visited my last three states this June 2015: Alaska, Washington, and Oregon. Since I founded the All Fifty Club in 2006, I have lived vicariously through the hundreds of people completing All 50. I have been genuinely excited each time I issued a certificate to a member to celebrate the accomplishment. Travelers have inspired me by sharing their favorite places and experiences. My hope is that the All 50 Club continues to encourage others to start and finish the goal of visiting every state in the USA.
My Journey

My 50 state travels started with family road trips. Back before seat belts were required, my brother, sister and I played all kinds of ridiculous car games and slept on a fold-down couch in the back of an extended van on our way from Arizona to Florida to visit grandparents. I remember being scared on a Carlsbad Caverns tour when all the lights were turned off to experience complete darkness. I remember the Alamo and walking down a seedy street in New Orleans while my Mom kept saying "Straight ahead, just walk straight ahead." In the late 80's our family took another epic trip traveling the East Coast from Virginia to Maine in a Cruise America RV. We saw the classic Washington D.C. sights, Rhode Island (my father's birthplace) and zillions of other places of interest. When I was 9, I made my own map to color in the states that I had been to. I kept it all these years in hopes that someday I would color them all in!

During college, friends of mine who were working in the automotive industry, were asked to test drive a convertible Chrysler Le Baron on a long distance road trip. They asked if I would come. YES! The car performed great as it took us on a crazy whirlwind trip from California to Michigan. We planned our tour around seeing President Bush speak at Mount Rushmore on the 4th of July, only to find out that there was a change in plans and we were a day too late. We wondered why there wasn't any security checking on us as we slept in the car to be the first people in! After graduating from the University of Arizona, I was hired as a systems consultant with Andersen Consulting, based in Charlotte, North Carolina - another voyage across the country. The job required weekly travel taking me to new states while I also accumulated lots of frequent flier miles that made future trips possible.
The travel adventures continued when my husband and I accepted a year-long assignment in Frankfurt, Germany. We were young enough to be able to work hard (60+ hours a week) and play hard - traveling to neighboring countries in Europe. When it was time to return to the United States we chose to go east around the world rather than back across the Atlantic. We made many stops in foreign countries, but the last stop was crucial to the all 50 goal – Hawaii, my 46th state. After we returned, we indulged my travel habit by taking an 8 hour side trip while attending a Minnesota wedding to go to Fargo, North Dakota, my 47th state.


We soon became busy with our careers and home responsibilities as we raised our family of two girls and two boys in Nashville, Tennessee. Most of our travels became trips to visit family in Arizona. As the kids grew older the decision became - do I finish all 50 or do I revisit states with my kids? It became more important to share experiences with our children - taking them to Disney World, the Grand Canyon, and Washington D.C. - places we had already been. I knew at some point the timing would be right for me to complete all 50. The perfect opportunity presented itself several years ago when my parents suggested a family reunion in Alaska for the summer of 2015. The trip was finally on the horizon – it just required planning and saving up! This summer was it - truly a trip of a lifetime. Not only was I able to finish the states, and see beautiful Alaska, but was able to share these experiences with my husband, kids, parents, brother, sister, nieces, and nephews.

The short version of the trip: Seven day cruise from Seward, Alaska to Vancouver, Canada on Royal Caribbean. Amtrak from Vancouver to the Seattle area. Rental car to Oregon. Voila! My final three states- three beautiful, unique states - Alaska, Washington, and Oregon.

REVELATIONS

I realized on this trip even more how deliberate and specific one has to be to visit all 50. Very few (if any) end up going to all fifty states by chance. Life can take many twists and turns but likely not to North Dakota and Kansas! The goal is attainable but it requires focus and dedication. Tough choices have to be made with limited vacation time and limited dollars. Should we go to a new state or return to somewhere that we know is fantastic? The 50 state goal is completely worth it. The return is way beyond the investment. It provides a better appreciation of what makes up our country and the similarities and differences of the American people. The incredible landscapes of different regions of the country awe and thrill you, and can even take your breath away. Lifelong memories are created by what you have seen and experienced, be they treasured moments alone or with family and friends. You gain a deeper understanding of the past by being at places where history actually took place. No matter how exhausting the trip is, traveling gives you life and vigor.

Many people say "What next?" I'm not sure, but I know that visiting all 50 has expanded the list of places I want to go by a hundredfold. There are not seven wonders of the world but seven bazillion. I look forward to more travels and encouraging others to go to All Fifty and beyond.

Thanks for reading my journey. I hope you share yours too!

Safe and Happy Travels, Alicia


Fargo photo via creative commons
Ethan Kan
Diamond Head picture via creative commons
Daniel Ramirez
All other photos property of Travel Goal Getter