fifty nifty kids club!
help kids learn about all fifty states!

Makes A Unique and Engaging Gift from a Parent, Grandparent, Aunt or Uncle!

Interactive! Fun! Educational!
Learn U.S. Geography!
Learn State Facts, Abbreviations, Shapes, & Names!
Kids Receive Mail for 12 Months!

Makes a Great Gift That Lasts the Entire Year!
Help your child learn about the United States by signing them up for the Fifty Nifty Kids Club! Kids will learn geography and state facts while having fun completing their interactive map. First, they will receive their map kit which contains a large wall map of the United States, 60 piece puzzle and activity book. Then, 4-5 state map pieces and fact cards will arrive in the mail each month for 12 months. Upon completion, kids will receive a certificate having earned the title of Fifty Nifty Kid! Join today! Makes a great gift that lasts the whole year! Memberships start as little as $5 per month!


---
How it works
---
---
what your child receives with membership
---
1) FIRST MONTH - Map Kit
The initial Map Kit contains a large 28" X 18" peel & stick wall map! The map "template" comes in 2 pieces with state abbreviations. Made of durable, self-adhesive backed vinyl, the map can be removed and re-positioned easily. Map will not leave a sticky residue. Fun for all ages, but best for K-6.

BONUS! Included in the Map Kit is a 50 States Facts & Fun Activity Book! Activities include follow-the-dots, word searches, find the differences, and more! Solutions included. (best for grades 1-5)

---

2ND BONUS! Also included in the Map Kit mailer is a 60 piece USA puzzle! (ages 4+)

---

2) MONTHLY FOR 12 MONTHS - State Pieces
4-5 state pieces are mailed each month after the first month. Kids place the state shapes in the correct location on the map. The state pieces have the name of the state in colorful letters. Watch as kids are excited to receive their own mail each month and learn about all fifty states!


BONUS! Included in the monthly state pieces mailer are fact cards for each state piece. The cards have information about each state including the capital, major cities, state flower, fun facts, and more! (best for grades 2-6)

---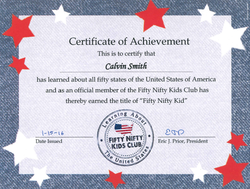 3) MEMBERSHIP RECOGNITION - Fifty Nifty Kids Club Certificate
When the final state pieces are sent, your child will become an official Fifty Nifty Kids Club Member and a personalized certificate will be mailed to them recognizing their achievement!

---
---
join today!
12 Month Membership
---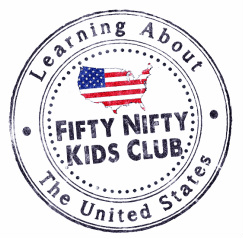 The Fifty Nifty Kids Club 12-month membership includes the map kit (wall map, activity book, 60 piece USA puzzle), state pieces mailed monthly for 12 months and state fact cards mailed monthly for 12 months! All packages come wrapped and ready to be opened by excited kids!
$5.00/month
Per month, via one-time payment of $60, FREE SHIPPING
---
FAQ
---
What is the cost? Basic membership is only $5 per month, payable as a one-time payment of $60 plus one time shipping fee of $5. Other bundled options are also available.
What's included? The initial map kit contains a 28" X 18" peel and stick wall map, a 50 states facts & fun activity book, and a 60 piece USA puzzle. The monthly mailer includes 4-5 state map pieces and state fact cards for the corresponding map pieces. A personalized membership certificate of completion is sent with the final state map pieces mailer.
What age/grades is this program best for? The map is fun for all ages but best for K-6. The other items are best for grades 1-6. The 60 piece puzzle is for ages 4+. Kids that are future readers will need some parent involvement so they can get the most out of the program.
Can I pay monthly? Currently, membership is only available as a one-time payment.

When will the first package arrive? The initial Map Kit will be mailed within 2 weeks of purchase.
Will I receive notification when my kit is mailed? Yes! We will email notification as soon as the initial map kit is mailed. Tracking may or may not be included.
Can I have the the initial kit and/or monthly state map pieces mailed to a different address? Yes! Indicate the alternative/gift mailing address when ordering.

When will monthly packages arrive? State pieces are mailed every month for 12 months and arrive about 30 days apart but will vary based upon US Postal Service delivery times.
Can I purchase as a gift? Absolutely! Indicate gift information when ordering and use this printable gift announcement to let them know the wonderful gift that will be coming!
Do you have a program for learning about other countries? Currently we do not but may in the future!

Do you ship overseas? We currently only ship to US addresses.
Can my membership be shared with other family members? Absolutely! When ordering, indicate other kids names if this is a shared membership (so we can address the mail to both kids) or order separate memberships for each individual.
My child has visited all fifty states. Is this program for him/her? Definitely! Children can reflect on the places they have been and continue to learn about the states. Be sure to also sign them up as an All Fifty Club member so we can recognize their great achievement of visiting all 50!
I've moved. How do I update my address? Please send us an email and we will update your address.
I'm not getting any mailings. Help! Please send us an email and we will investigate.