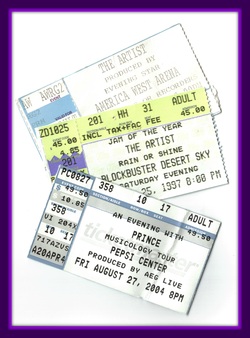 Author: Eric
​I was curious how many US States and Countries musician
Prince Rogers Nelson
visited during his lifetime so I did some research and tallied everything up. I'll get to his map shortly, but first want to share a little about being a fan of his music and postulate about how he will ultimately be remembered.
I was fortunate to see Prince live in concert three times, although, due to his battle with Warner Bros., at two of the concerts he was simply referred to as "The Artist". Growing up as a child of the 80's, my sisters and I sang and danced along to his records and were mesmerized by his wild clothing and uniqueness. I believe we were too young to know what many of his songs were really about! After his death, I've come to the realization that I was lucky to exist on the earth at the same time as possibly one of the most musically gifted and talented artists in history. He simply could pick up any guitar (or any other instrument for that matter) and just play and sing effortlessly. If you beg to differ, check out his
epic guitar prowess
at the 2004 Rock and Roll Hall of Fame Induction or this
MTV Unplugged
medley. Prince was truly a once in a lifetime artist!
Whether or not you like the type of music he wrote, produced, and performed, in decades and centuries to come I believe he will be remembered for more than his hits such as
Purple Rain
and
When Doves Cry
. He will be remembered as a risk taking, trail blazing artistic genius who fought for his rights and took on the music industry (and won). His journey through life will be written in the history books as one of freedom; freedom to control his musical artistry and his life; freedom to explore topics outside the mainstream and push things to the edge; freedom to produce music for music's sake; not for critical acclaim, commercial airplay, or profit; freedom to experiment with unique musical textures and styles; freedom to maintain a sense of privacy and mystery in this "me me me" age of social media and self promotion; freedom to be a humanitarian without seeking recognition and freedom to live his life believing that there is goodness and genius in everyone. According to one of his close friends, Van Jones, Prince believed it was just a matter of pulling out the good in people.
During Prince's life, he toured nearly every year since he started in 1979 at the age of 21. According to data on 26 tours and concerts from the site goldiesparade.co.uk, Prince visited 40 U.S states plus Washington D.C. and 27 Countries.
I was very surprised to learn that Prince visited my home state of Wyoming in 1986 as a result of a Sheridan, Wyoming resident winning an MTV contest. This was his only visit to Wyoming, the least populated state in the U.S. The contest awarded the premier of Prince's movie
Under the Cherry Moon
to the 10,000th caller, 20 year old Sheridan resident Lisa Barber. Prince's entourage arrived in Sheridan (population 25,000 in 1986), attended the premier at a local movie theater and then gave a concert afterwards at the Holiday Inn. This was an MTV televised event and some of the footage can be seen
here
.
The states he visited (as part of an official tour or concert series) are listed below with the number of times visited indicated. Prince gave many additional concerts at his Paisley Park home and studio in MN which may not be included in the number. Additionally, I did not extensively research states and countries that Prince may have visited for leisure, although Prince does not strike me as the type who took many vacations. It is widely reported that Prince was an incessant musician who constantly recorded material and he had mics installed in every room in his home so he could record from any room. It is also reported that he has hundreds of unreleased songs and 50 fully produced music videos of unreleased material. It will be interesting to see if his estate releases this vault and equally intriguing if his Paisley Park Studios and personal residence is turned into a museum enabling his fans to further celebrate the life of this musical genius.
​
States Visited 1979-2016, Number of Visits
California, 20
Minnesota, 16 (home state)
Michigan,15
New York, 15
Georgia,14
Illinois, 13
Ohio, 13
Texas, 12
Pennsylvania, 11
Louisiana, 11
Massachusetts, 10
Colorado, 10
Florida, 10
Missouri, 10
North Carolina, 10
Tennessee, 9
Virginia, 9
Washington DC, 9
Kentucky, 8
Maryland, 8
Alabama, 7
Indiana, 7
Nevada, 7
New Jersey, 7
South Carolina, 7
Wisconsin, 6
Arizona, 5
Connecticut, 5
Nebraska, 5
Washington, 5
Mississippi, 4
Oregon, 4
Arkansas, 3
Iowa, 3
Oklahoma, 3
Utah, 3
Hawaii, 2
New Mexico, 2
North Dakota, 1
Rhode Island, 1
Wyoming, 1
Alaska, 0
Delaware, 0
Idaho, 0
Kansas, 0
Maine, 0
Montana, 0
New Hampshire, 0
South Dakota, 0
Vermont, 0
West Virginia, 0
We pay homage to this great musical genius and his 40 U.S. State visits. The map below was created with the
Travel Goal Getter iPad App
. (not visible - he toured in Hawaii but not Alaska)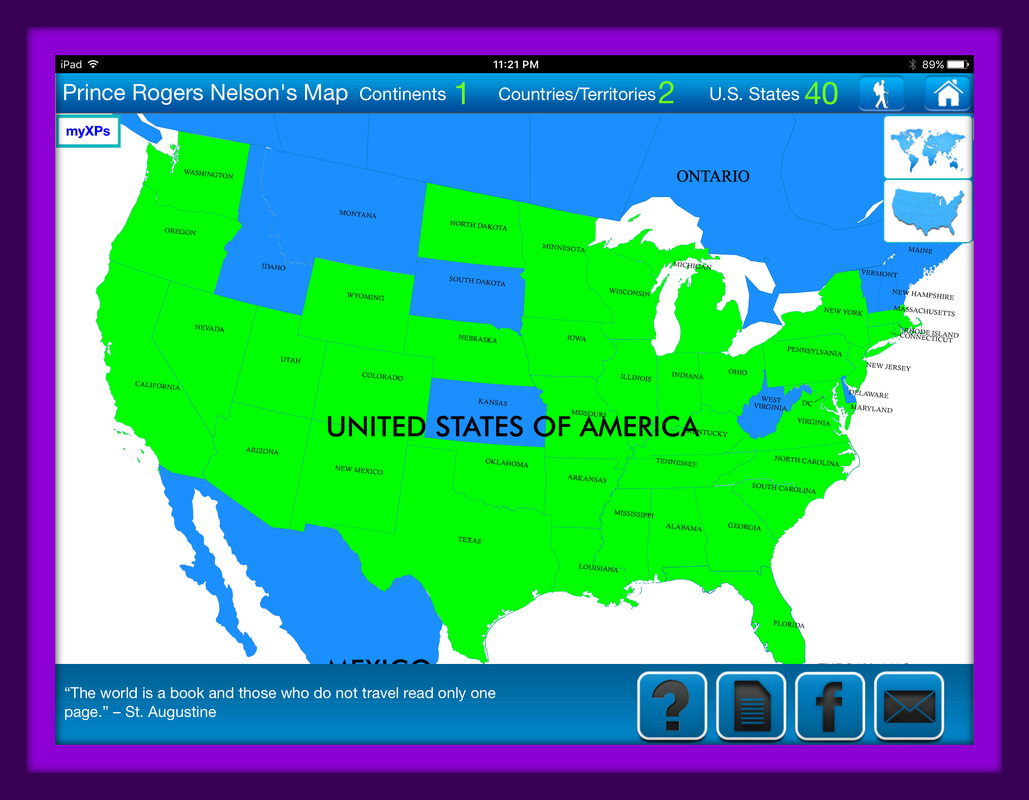 Prince also visited 27 countries as part of a tour or concert series:
Countries Visited 1979-2016, Number of Visits
The Netherlands, 14
France, 13
UK, 12
Belgium, 12
Germany (includes West Germany, visits prior to 1990), 11
Sweden, 9
Canada, 9
Denmark, 8
Switzerland, 7
Italy, 6
Japan, 6
Norway, 5
Austria, 4
Ireland, 4
Australia, 4
Portugal, 4
Spain, 3
Monaco, 1
China, 1
UAE, 1
Poland, 1
Luxembourg, 1
Finland, 1
Hungary, 1
Curacao, 1
New Zealand, 1

Below is Prince's world map created using the
Travel Goal Getter iPad App
. Please note that on the map, the territories of Canada are counted separately (for those people having a goal to visit all of the territories of Canada).
What are your memories of Prince? Share your experiences and comment below.