Author: Eric
A superior alternative to a small backpack when traveling is the
Scottevest
, which is like a travel vest on steroids. I recently broke the vest in on a trip, inspector gadget style (as my sister described it) through the airport, on the airplane, and to various places of interest in the hot and humid south.
Travel Vest on Steroids? Really?
My previous travel packing went something like this: Dump my stuff into a two pocket backpack and load my jean or short pockets with a laundry list of other items creating an impossible situation of endless searching and the more impossible task of getting something out of a jean pocket while sitting in an uncomfortably small airplane seat. Alas, those days are over with the Scottevest! The vest enables hands free travel and easy, organized access to your belongings.
The vest has so many features that it comes with an instruction manual, a blueprint of sorts to navigate the pockets, hidden pockets, back pockets, pen pockets, change pockets, ear-bud pockets - 24 different pockets to be exact, plus magnets, loops, clips, and cords with specific purposes.
What I Really Liked:
● It rained on my trip and the vest wicks water as advertised
● The patented headphone wiring system and the earbud pockets are extremely convenient - no loose wires to get tangled
● The eyeglasses/sunglasses pocket with cleaning cloth came in handy and was my favorite pocket because it kept my sunglasses protected when I didn't need them and enabled easy cleaning when I did
● The huge back pocket (which I thought I would never use) was great for an extra set of clothes - I put a pair of shorts and a shirt in the pocket for my daughter when the forecast was for rain - it rained and my daughter had a dry set of clothes at the ready
● The key holder/clip added a sense of security - I wasn't always checking my pockets to see if my keys were still there
● The magnetic hand pocket closures were an invaluable feature, you don't have to worry about zipping up the pockets every time you need to get something or worry about stuff falling out
● I didn't overheat wearing the vest as it was well ventilated and very lightweight
● The tags telling me the intended use of the various pockets helped me stay organized - It made it easier to decide what to put in the pockets
● Major time/stress saver at the airport, I just took off the vest and breezed through security without having to dig through my pockets
● There is a pocket designed to fit your tablet! Big enough for an iPad!
What's Growing On Me:
The vest has two pockets that allow the use of touch screen devices through the protective clear fabric - I thought I would like the clear touch fabric pocket more - unless your touch screen phone is right up against the material it is hard to clearly see the screen on your device - I found myself having to use two hands to get full use of my phone in the pocket - but, it is a step up from having to take your phone out of a pocket to use it which is a big plus
A Word of Caution:

When not wearing the vest make sure to hang it up or put it on the back of a chair using the same orientation as when you wear it. Mistakenly, I took the vest off with my sunglasses still in a pocket and stuffed the vest in a small bag. When I took the vest out to get my sunglasses, they found their way to an inaccessible part of the vest in between the fabric. I ended up figuring out that I had to go up the front pocket to rescue my lost sunglasses. The vest temporarily swallowed my sunglasses! This made for an interesting start to my day!
The Bottom Line:
Feature packed and highly functional, Travel Goal Getter calls this a must buy for the casual and professional traveler alike. The vest along with other travel apparel can be purchased at the
Scottevest website
.
Note: I received a free Scottevest travel vest at a travel conference. However, the opinions are my own based upon my personal use of the vest on a trip.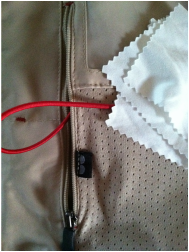 The most used pocket on my vest - sunglasses pocket with built in cleaning cloth - this is an actual picture from my vest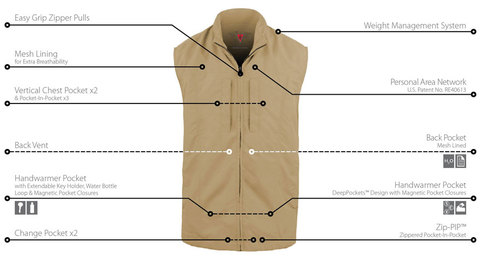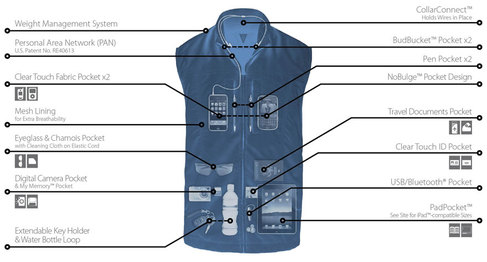 Do you have travel goals? See
Achieving Travel Goals
for some quick advice and a comprehensive primer to help you achieve travel goals. Check out a simple tool to help track travel goals and travel accomplishments - see our
Travel Goal App
for the iPad to learn more about tracking your unique travel goals on your own travel goal iPad app. Have you traveled to all 50 states, all 7 continents, or at least 15 countries? Become a member of our
All Fifty Club, 7 Continent Club, and/or Traveler's Country Club
today or give a membership as a gift! Happy Travels!

You might also like...