If you find yourself with Switzerland on your travel goal list, this is a great start to build your itinerary of the top 10 things to do in the Lake Geneva Region.
This list is from Region Du Leman Tourist Office
.
1)
Music

Rufus Wainwright, Erykah Badu and Tony Bennett - Three stars performing at the 46th
Montreaux Jazz Festival
along the shores of Lake Geneva. The festival is June 29th to July 4th, 2012.
2)
Velopass
Bikes to Go - For around $7.50 you can pedal around Lake Geneva and other areas for a 24 hour rental.
3) This is the year of actress Audrey Hepburn, long time resident who lived in the lakeside village of Morges and is buried nearby - Some
museums in Morges
are offering free exhibitions through November.
4)
Affordable Bed and Breakfast

One of the Lake Geneva Region's best kept secrets is affordable
bed and breakfasts
with some priced as little as $46 per person, per night.
5)
Farm-to-Table

Farms and vineyards dot the countryside.
Weekly markets
are in Lausanne, Morges, Nylon, Moudon, and Vevey. Purchase produce, local cheese, meat, regional wines, and crafts.
6)
Open Cellars for Wine Tasting

Wine producers
open their cellars on weekends for tastings in the Lake Geneva region.
7)
Mountain Biking and Hiking

Some of the best
biking
and
hiking
trails in Europe from novice to expert.
8)
Soaking Up Switzerland

Lavey-les-Bains
has long been attracting people to its hot waters. The thermal baths are 156 degrees, the hottest baths in the country.
9)
Hotels for Hipsters

LHotel
, a 26-room hotel is housed in a historic building that recently opened in the trendy Flon area of Lausanne. The new
Hotel Lavaux
opens in July in the wine village of Cully.
10)
Sleeping on Straw

The Lake Geneva Region's Agritourism
program gives you a chance to sleep on a straw bed on a rural farm. The program runs from May to October.
Photo used under Creative Commons from
eGuide Travel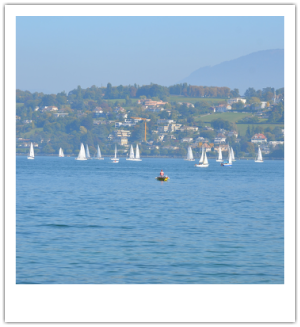 Do you have travel goals? See
Achieving Travel Goals
for some quick advice and a comprehensive primer to help you achieve travel goals. Check out a simple tool to help track travel goals and travel accomplishments - see our
Travel Goal App
for the iPad to learn more about tracking your unique travel goals on your own travel goal iPad app. Have you traveled to all 50 states, all 7 continents, or at least 15 countries? Become a member of our
All Fifty Club, 7 Continent Club, and/or Traveler's Country Club
today or give a membership as a gift! Happy Travels!