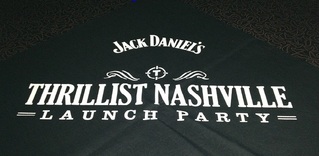 A new resource was added to Travel Goal Getter Travel Resources - THRILLIST.
Thrillist.com
is a travel advisor for the hip, young, thrill-seeking traveler. THRILLIST sends daily e-mails with restaurant, bar, or travel ideas for 21 major American metropolitan areas and is expanding to more cities. You can sign up for a city you plan to go to or just visit their website for overall travel ideas. Travel Goal Getter attended a launch party this past week for Thrillist Nashville. What a party! Sponsored by Jack Daniel's®, the Thrillist event had the music jammin', southern food a passin', and the drinks pourin' for folks in downtown Nashville. If you ever have the opportunity to taste a Jack Daniel's® Tennessee Fire Whiskey milkshake, do it! Thrillist lives up to its image of life in the fast lane. The articles are not for everyone, as some are "adult-only" content geared toward males aged 21 to 35. That being said, the Thrillist lifestyle brand provides interesting travel advice for all that are young and crazy at heart. Thrillist recent articles:
Every State in the USA Ranked by Beer
,
22 Best Whiskey Bars in America
,
21 Best Mexican Restos in America
.