Congratulations to Nicole Smith on completing her goal of skydiving in all 50 U.S. States! She wrapped up her goal on Saturday, August 18th at Skydive Kansas, marking her 50th jump.
You may recall Nicole's amazing inspirational story that we first highlighted on June 11th. Nicole was in a serious car accident in June 2011 in which her boyfriend was killed and Nicole was left in critical condition with a broken neck, back, tailbone, punctured lung, 2 broken ribs, 4 pelvic factures, and 2 brain injuries. A true miracle story, she writes on her blog that, "During my rehabilitation, I had time to focus on what is really important in my life." She got rid of many possessions and started focusing on her "bucket list". Her passion for skydiving was at the top of the list.
Read about her amazing adventure at
http://temptphate01.tumblr.com/
.
Congratulations Nicole! A true inspiration!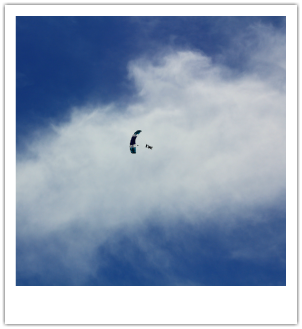 Photo used under Creative Commons from
joebaz
Do you have travel goals? See
Achieving Travel Goals
for some quick advice and a comprehensive primer to help you achieve travel goals. Check out a simple tool to help track travel goals and travel accomplishments - see our
Travel Goal App
for the iPad to learn more about tracking your unique travel goals on your own travel goal iPad app. Have you traveled to all 50 states, all 7 continents, or at least 15 countries? Become a member of our
All Fifty Club, 7 Continent Club, and/or Traveler's Country Club
for FREE today or give a membership as a gift! Happy Travels!
you might also like...