In
Part 1 of World Travels of U.S. Presidents
, it was determined that Presidents Roosevelt, Taft, Wilson, Harding, Coolidge, and Hoover didn't get out of the country much while in office. However, Presidents Roosevelt (Franklin D.), Truman, Eisenhower, Kennedy, Johnson, and Nixon certainly logged some miles. Have you visited any of the same countries these past Presidents visited?
Thanks to the
U.S. Department of State Office of the Historian
, we have put together maps showing the World Travels of U.S. Presidents. Over the
next week or two follow along and you'll see who wins the prize as the most
traveled U.S. President. All of the maps will be put on our
Pinterest Page
for easy access and viewing. The maps were created using
Travel Goal Getter iPad App
,
available in the app store
.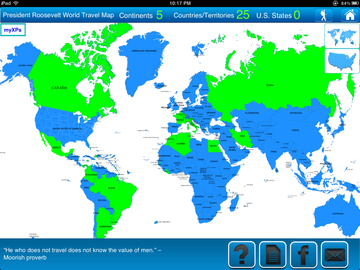 President Franklin D. Roosevelt made his way to 25 Countries on 5 Continents including; The Bahamas (4 fishing trips, 1 visit), Canada (10 times), Haiti, Columbia, Panama (3 times), Trinidad (4 times), Brazil (3 times), Argentina, Uruguay, Jamaica, St. Lucia, Martinique, Antigua, The Gambia (twice), Morocco, Liberia, Mexico, Algeria (twice), Tunisia (twice), Egypt (3 times), Iran, Malta (twice), Italy, Senegal, and Russia (U.S.S.R.).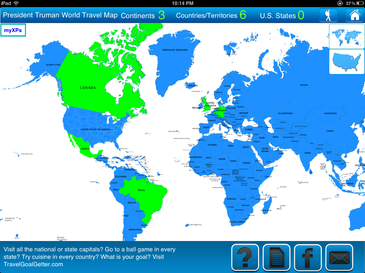 President Harry S. Truman did not travel nearly as much as Roosevelt did, only making it to Belgium, Germany, United Kingdom, Mexico, Canada, and Brazil.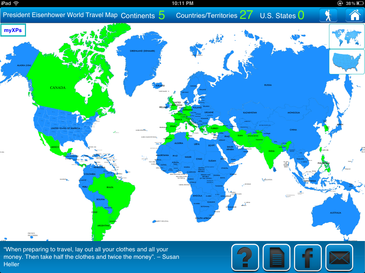 President Dwight D. Eisenhower topped FDR by 2 countries traveling to 27 on 5 continents including; Korea (twice), Mexico (3 times), Canada (3 times), Bermuda (twice), Switzerland, Panama, France (4 times), Germany, United Kingdom (twice), Italy, Vatican City, Turkey, Pakistan, Afghanistan, India, Iran, Greece, Tunisia, Spain, Morocco, Brazil, Argentina, Chile, Uruguay, Portugal, Philippines, and Taiwan (was China).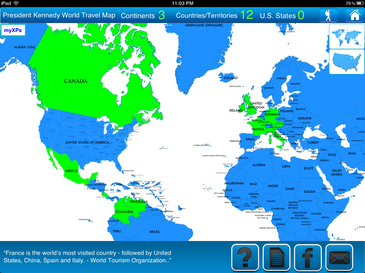 Limited to just a few travel years, President John F. Kennedy traveled to 12 countries (13 if you count West Germany) Canada, France, Austria, United Kingdom (4 times), Venezuela, Columbia, Mexico, Costa Rica, Germany (also West Germany), Ireland, Italy, and Vatican City.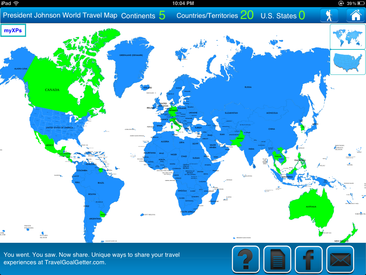 President Lyndon B. Johnson treked around the world to 20 countries including; Canada (3 times), Mexico (3 times), New Zeland, Austalia (2 times), Philippines, Vietnam (twice), Thailand (twice), Malaysia, Korea, Uruguay, Suriname, Germany, Pakistan, Italy, Vatican City, El Salvador, Nicaragua, Costa Rica, Honduras, and Guatemala.


you might like...