Author: Eric
This year we will be following the travels and experiences of the Amazing Race Season 21 using the
Travel Goal Getter iPad App
which allows you to mark your own map of the world and keep track of bucket-list travel experiences. One of our favorite travel related shows on television, Amazing Race Season 21, Episode 5 kept us stalled in Bangladesh wishing for cooler weather for the racers. A memorable quote from the episode was "I've been bamboozled again". Read on for the full story!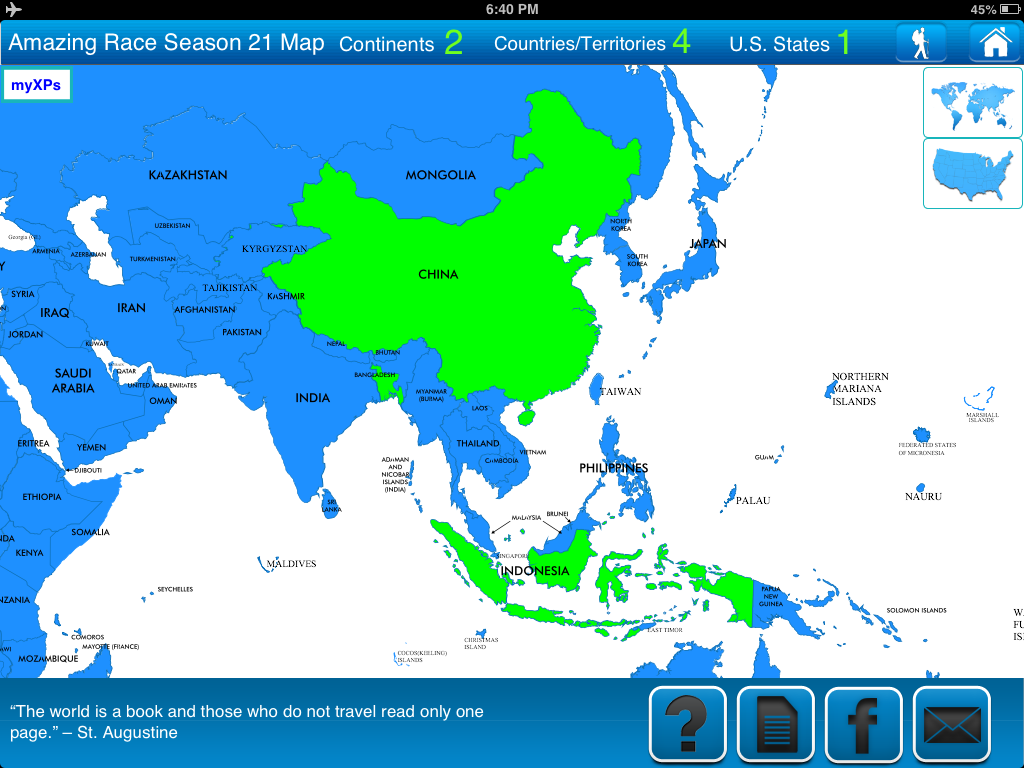 The Amazing Racers did not add any new countries in episode 5 as they were still in Dhaka, Bangladesh fighting the intense heat and humidity. They first had to get a clue from an eggplant vendor at the Jatrabari Boro Bazar which directed them to Ferry Ghat Road for their first task.
► The first task was to assemble an ancient scale using bamboo to weigh wood using rocks as a counter balance. Some teams struggled with this task because it involved getting the correct scale height using rope. The more mechanically inclined teams did well but overall the heat and humidity slowed the teams down.
After completing the scale task, the teams had to choose between "Straw Dogs" or "Bamboo Jungle".
► Straw Dogs involved working on a Jute bag. Jute is a natural plant fiber used to make rope, curtains, and sacks. The jute had to be whipped across a plate of giant nails to untangle the fibers. Teams had to make 20 coils and then carry the coils to the machines that make them into bags.
► Bamboo Jungle had the teams collecting 40 poles of bamboo of various lengths from a bamboo yard. It was at this point that one of the team members said, "I've been bamboozled again!". The comment was made as a team member realized that the yard was overflowing with bamboo. The bamboo poles, some of which were about 30 feet long, were then loaded onto a freight rickshaw to be wheeled through narrow streets and delivered to a construction site. This task was difficult physically because of the weight of the bamboo and the heat and humidity certainly did not help. Navigating through the streets without running into anything also proved difficult. The Chippendale team, Jaymes and James forgot several poles by mistake and had to go all the way back with their rickshaw to complete the task. Despite their mistake, they did not finish last.
The pit stop was at Lok Shilpa Jadughar, a folk art and craft museum. James and Abba, the brother rocker/lawyer team finished first and won a trip to Malaysia while Josh and Brent, the goat farmer team finished last but were not eliminated because it was a non-elimination leg.
The majority of the tasks that teams have been faced with this season have been manual-labor related. I am patiently waiting for the racers to be faced with more mentally challenging tasks and more adrenaline inducing challenges. I'll keep watching! To catch up on past episodes, please watch
Amazing Race on CBS