Author: Eric
This year we are following the travels and experiences of the Amazing Race Season 21 using the
Travel Goal Getter iPad App
which allows you to mark your own map of the world with states visited, countries visited, and continents visited and keep track of bucket-list travel experiences. One of our favorite travel related shows on television, Amazing Race Season 21, Episode 8 left me laughing over split pants. Read on for the full story.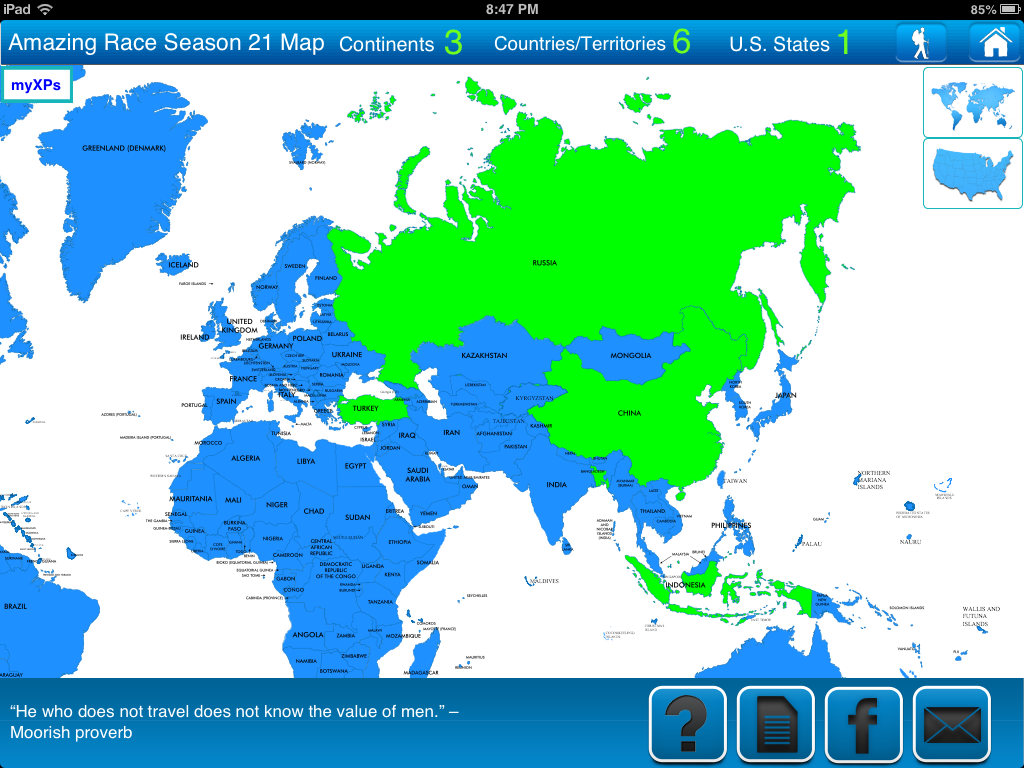 No new countries were added this week as the racers were still in Moscow. The second part of Amazing Race Season 21's to-be-continued episode had racers in class, on the dance floor, and shaking it up with some of Russia's historic figures. But first, Josh & Brent (the goat farmer team) were still trying to finish the synchronized swimming task from last week while Abbie and Ryan graciously watched. Because the pool was closing, Josh and Brent were given one more chance to complete the task. Although they were close to completing the routine, they did not finish and ended up being penalized 4 hours which was assessed at the start of the next leg. If you recall from the last episode, the other team that was having major trouble was James and Abba who lost their bags and a passport. They were the last team to arrive at the pit stop, but since it was a non-elimination leg, they could continue to race until they came to a point where they needed to produce their passports again. To recap, Abbie and Ryan finished 4th, Josh and Brent finished 5th, and James and Abba finished 6th.

► Teams first caught taxis to the Agriculture Academy to find their next clue which then took them to the road block at a nearby classroom. The task involved racers figuring out a Russia time zone map that flashed across the screen at the front of the classroom and then calculating the times of Russian cities that flashed across immediately after. Jaymes and Lexi teamed up on the roadblock and finished after 12 tries. Ryan finished after 25 tries, and the sister team, Nadiya and Natalie decided to use their express pass to skip the roadblock and move on to the next task. Brent had no trouble with the task and finished on the first try.

Next, teams had decide between Movers and Shakers.

► In movers, teams had to learn and perform a Russian soldier dance. James struggled with this task because of a hurt ankle but ended up completing the dance with sweat pouring down his face. Lexi and Trey and Abbie and Ryan also completed the task without too much trouble. Nadiya and Natalie had some laughs (along with me) as Natalie split her pants a couple of times trying to get the dance down - there is just something hilarious about someone else splitting their pants.

► In shakers, Josh and Brent had to find 7 historic Russian figures at a cocktail party by identifying look-a-likes. Despite Josh and Brent being in the rear most of this season, they find moments to enjoy themselves. Their enjoyment might be explained because they think they are going to be eliminated so the race pressure is reduced.

The pit stop was at Sokolniki Park and the teams finished in this order:
1) Jaymes and James: won a trip to Costa Rica
2) Trey and Lexi
3) Nadiya and Natalie
4) Abbie and Ryan
5) Josh and Brent
6) James and Abba - realizing they could not locate their passports, they went to the pit stop and were eliminated.