Author: Eric
This year we are following the travels and experiences of the Amazing Race Season 21 using the
Travel Goal Getter iPad App
which allows you to mark your own map of the world with states visited, countries visited, and continents visited and keep track of bucket-list travel experiences. One of our favorite travel related shows on television, Amazing Race Season 21, Episode 9 left Phil asking Josh and Brent if he should eliminate them even though they didn't finish last!? Read on for the full story.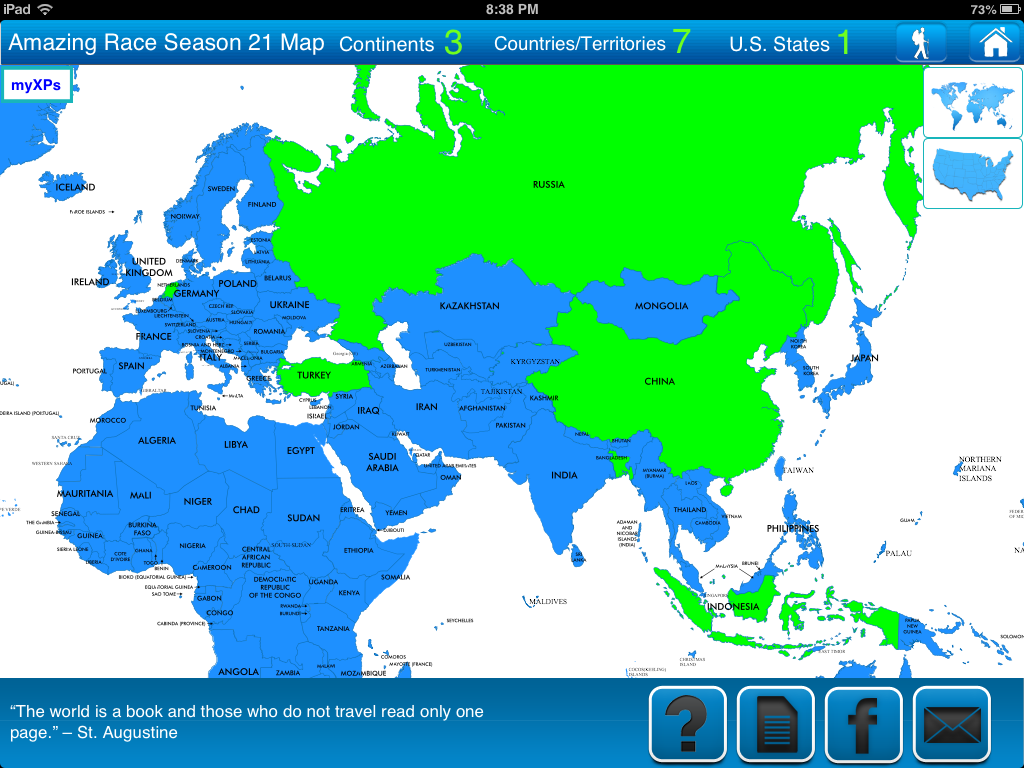 Teams left Moscow and added another country to their travels, the Netherlands. This episode was fairly predictable.
► Natalie and Nadiya begged a ticketing agent to get a flight via Rome despite a one hour connection. The ticketing agent did not want to sell the ticket with that short of a connection in Rome. Their pleads worked and their decision proved to be profitable.
Here is the recap of arrival times which pretty much set the tone for this leg of the race:
-Natalie and Nadiya, 1130am arrival (via Rome)
-Jaymes and James, 1215pm arrival (direct flight)
-Trey and Lexi, 105pm arrival (via Larnaca, Cyprus)
-Josh and Brent, 435pm arrival (via Oslow)
-Abbie and Ryan, 1245pm or 205pm arrival (via Frankfurt)
Everyone arrived on-time except for Abbie and Ryan who were delayed in Frankfurt (just like leg 7). They hoped for the 205pm arrival but were delayed departing due to mechanical problems and had to switch planes (been there!). Natalie and Nadiya decided to go for the fast forward which allowed them to complete one task and skip to the pit stop. The fast forward task was to get on a bus and eat herring. Not kidding - I love herring! What was exciting about this fast forward was the bus was actually a hybrid bus/boat. It reminded me of the
Ride The Ducks tour in Seattle
. If you have a chance to ever ride in a car/bus/truck that turns into a boat, it is quite an interesting and strange experience. Jaymes and James tried to do the fast forward but ran into Natalie and Nadiya when they were just finishing the task. Natalie and Nadiya ate their herring and headed to the pit stop in seemingly record time.
Except for Natalie and Nadiya who were already on their way to the pit stop, teams had to decide between the detours "Back in Time" or "Organ to Grind".
► In "Back in Time" teams had to recreate Rembrandt's masterpiece "Night Watch" by dressing in character and posing other people in costume to replicate the painting.
► In "Organ to Grind" teams had to find one of three giant street organs, operate the organ and collect 30 Euros from pedestrians.
Jaymes and James (who ended up taking their shirts off to try and earn more money faster), and Trey and Lexi chose the organ detour and completed fairly easily and quickly. Meanwhile, Abbie and Ryan arrived and, because of their airplane delay, ran into Josh and Brent at the airport. They decided to run the leg together and they chose the "Back in Time" detour.
► Teams also had to complete the roadblock which involved them jumping over a water filled ditch using a pole. Teams had to complete this roadblock on a previous season and I think show producers thought it would prove difficult. However, teams finished this task easily and the only team member that got wet was Ryan.
After completing the "Back in Time" detour Abbie and Ryan found themselves "u-turned" and they had to complete the "Organ to Grind" task as well. They said there goodbyes to Josh and Brent and basically walked their way through the rest of the leg. Josh and Brent who felt bad that they had to leave their friends Abbie and Ryan behind, checked into the pit stop fourth. Because they didn't act very happy about getting to the pit stop via a u-turned Abbie and Ryan, Phil asked them if they would rather be eliminated - they declined.
The racers finished in this order:
1) Natalie and Nadiya - they won $5000 each
2) Jaymes and James
3) Trey and Lexi
4) Josh and Brent
5) Abbie and Ryan - eliminated
The lack of competitiveness at the end of this leg with Josh and Brent really had me wondering if they truly understand the meaning of the show. After all, racers are supposed to want to NOT come in last! Abbie and Ryan who won the first leg of the race had a shot at winning 2 million dollars. Instead, they left the show in tears blaming the Chippendale u-turn tactic as the reason they were eliminated. The race is winding down with only two countries more to go. The top three teams are strong and Josh and Brent seem to be begging to be eliminated from the race.