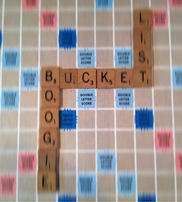 Author: Eric
With the seemingly endless election nearly behind us, now may be a great time to really focus on your travel goals for 2013 and a bucket-list boogie just might be the shake-up you need to say on track. Let's face it, broad goals are much more difficult to achieve than specific goals. That's why it is advantageous to break down your (seemingly endless!) bucket-list into smaller goal sets. For example, why not create an edible bucket-list, drinkable bucket-list, museum bucket-list, monuments bucket-list, adrenaline bucket-list, animal encounter bucket-list and so on. When planning your next trip, review goals from each of the specific bucket-lists you made, find the goals that fit, and create a specialized list to accomplish on that trip. Before you know it, you'll be more organized with your bucket-list and be well on your way to checking off your goals when you travel. Create multiple bucket-lists and assign multiple goals to each bucket-list using the
Travel Goal Getter iPad App
. The bucket-list feature of the app (called "My Experiences") can be used as a flexible travel planning, tracking, and organizational tool. Shake it up! Your goals will thank you! Of course if you don't like the term "bucket-list" call it what you want - just as long as it keeps you motivated to accomplish your goals!
Do you have travel goals? Check out a simple tool to help track of states visited, countries visited, and continents visited - see our
Travel Goal iPad App
to learn more about tracking your unique travel goals and your
travel experiences
and bucket-lists on your own
travel goal iPad app
. See
Achieving Travel Goals
for some quick advice and a comprehensive guide to help you achieve travel goals. Looking for great articles to plan your next awesome adventure? See our
Top Travel Blog Search Engine
that searches only the top 150 most widely read and popular travel blogs in the world. Have you traveled to all 50 states, 6 of the 7 continents, or at least 15 countries? Become a
free member
of our
All Fifty Club, Continent Club, and/or Traveler's Country Club
for FREE today or give a membership as a gift! Happy Travels!
You might also like...