Author: Eric
This year we are following the travels and experiences of the Amazing Race Season 21 using the
Travel Goal Getter iPad App
which allows you to mark your own map of the world with states visited, countries visited, and continents visited and keep track of bucket-list travel experiences. One of our favorite travel related shows on television, Amazing Race Season 21, Episode 10 left me surprised that this was the first leg in which racers had to do some car navigation! Read on for the full story.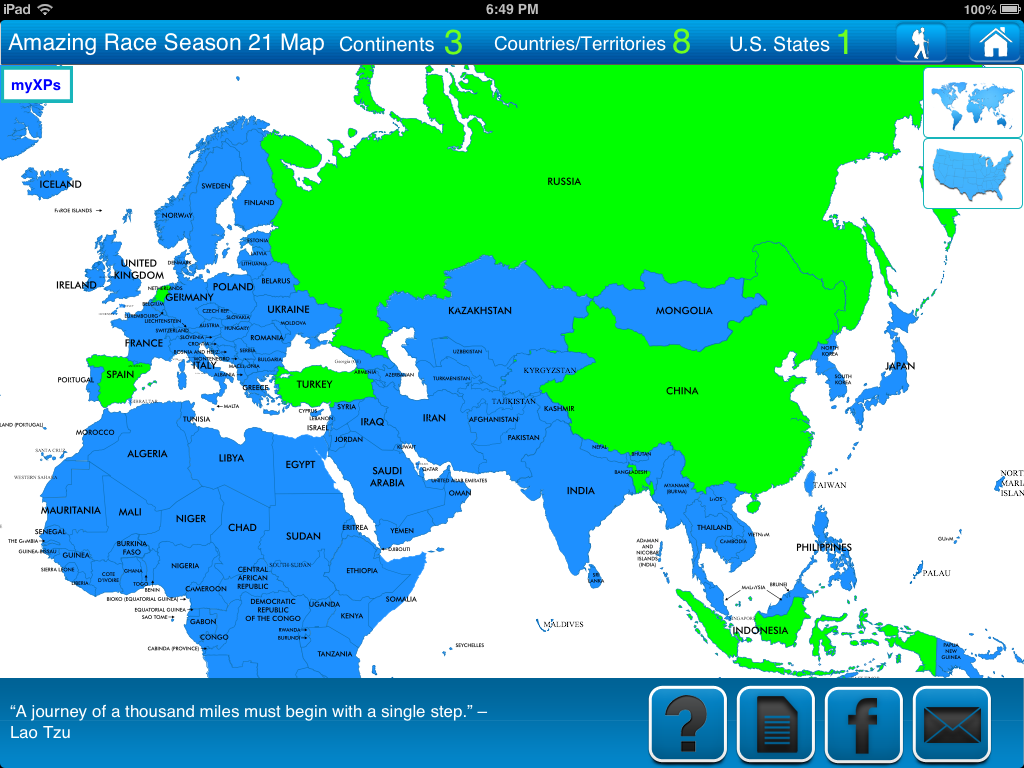 Amazing racers flew from Amsterdam to Barcelona in this second to last episode adding another country to their list.

The teams departed Amsterdam in this order:
1) Natalie and Nadiya
2) Jaymes and James
3) Trey and Lexi
4) Josh and Brent

Despite the teams taking different flights from Amsterdam, they were all able to catch up to one another due to the overnight ferry to the island of Mallorca leaving as much as 12 hours after the first teams arrived. While the teams were waiting, they were able to spend some time at the beach in Barcelona. After the ferry to Mallorca, teams took taxis to Dalt Murada to get their next clues from fire breathing demons and devils that were shockingly scary both in appearance and with the demonic screams and screeches they were vocalizing.

After getting their clues, teams had to drive themselves to the Centro de alto Rendimiento sports complex. It was at this point that I was reminded, much to my surprise, that this was the first time this season that teams had to drive themselves and navigate. In past seasons of The Amazing Race it seemed like teams had to drive themselves everywhere. We learned that Nadiya, who took a crash course in driving a manual vehicle prior to the race, had difficulty getting the car into gear. I immediately had flashbacks to learning to drive a stick-shift with my sisters and how sore my neck was after trying to learn!

Teams encountered the leg roadblock where they had to return 20 tennis balls served off a professional tennis machine. If they ran out of balls before hitting 20, they had to start over again. Teams arrived at the complex not far apart from each other (except Natalie and Nadiya), and it was obvious that Trey played tennis before. He finished on his first set of balls and completed the roadblock quickly. James hit 6 balls on his first set, had to start over, and returned his 20 on his second set of balls. Josh, who had hurt his ankle on the previous leg while running to the ditch jump, struggled with this task. After a sit-down break, Josh returned his 20 after only hitting 10 balls on his first round. Natalie and Nadiya finally arrived after their slow driving. Nadiya hit 8 balls her first round and finished 20 on her second round.

Their next clue took them to the Coves de Campanet where teams had to search the caves for music. After following the music which led to two guitar players, teams received their next clue which was a detour.

Teams either had to do "Spin-It" or "Bull-It":
► In "Spin-It", teams had to repair windmills by bolting on blades.
► In "Bull-It", teams had to dress in a bull costume where one team member was at the front and couldn't see while the other team in the back directing them towards bull fighters. The task was completed once teams went through eight bull fighters and hit a target within 2 minutes.

All teams but Trey and Lexi did "Spin-It". Trey and Lexi finished their detour on their second try and after Lexi cut herself on the bull costume. They switched positions so Lexi was directing Trey and they finished with 45 seconds to spare. Jaymes and James and Josh and Brent breezed through the windmill repair task but Natalie and Nadiya struggled. Even though Natalie and Nadiya arrived only slightly after Josh and Brent, Natalie and Nadiya took too long with the windmill repair and could not catch up.

Trey and Lexi finished first and won a trip to see the Mayan Ruins of Chitzanetza in Mexico.
Jaymes and James finished second.
Josh and Brent finished third.
Natalie and Nadiya finished fourth.

Natalie and Nadiya were spared as this was a non-elimination leg and the final four teams will race on the two-hour season finale with Natalie and Nadiya having to complete an extra task called a speed bump.

As a side note, at the pit stop there was another strange character, a headless person sitting on a chair in a suit. This is the second strange pit stop character this season with the first being the man in Indonesia with 10 inch (or longer!) nails. I am looking forward to the final episode!