This year we will recap Amazing Race Season 22 locations and activities. The first leg had the amazing racers traveling to Bora-Bora. What a beautiful place to start Amazing Race Season 22!


From
wikipedia
...Bora Bora
is an island in the Leeward group of the Society Islands of French Polynesia, an overseas collectivity of France in the Pacific Ocean. The island, located about 230 km (140 mi) northwest of Papeete, is surrounded by a lagoon and a barrier reef. In the centre of the island are the remnants of an extinct volcano rising to two peaks, Mount Pahia and Mount Otemanu, the highest point at 727 m (2,385 ft).
Bora Bora
is a major international tourist destination, famous for its aqua-centric luxury resorts. The major settlement, Vaitape, is on the western side of the main island, opposite the main channel into the lagoon. Produce of the island is mostly limited to what can be obtained from the sea and the plentiful coconut trees, which were historically of economic importance for copra. According to a census performed in 2008, the permanent population of Bora Bora is 8,880.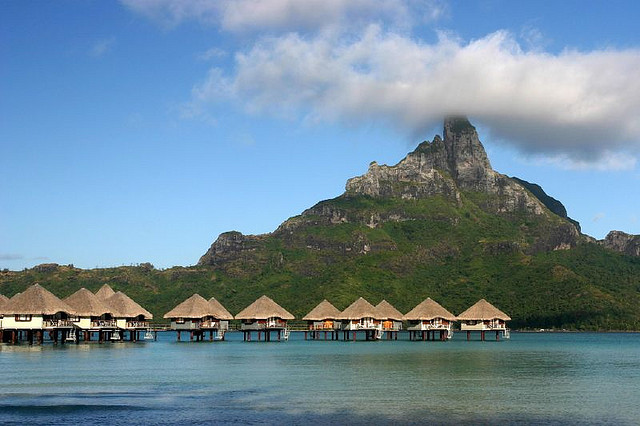 Bora-Bora. Photo used under creative commons by
Benoit Mahe.
In Bora-Bora, Amazing race teams skydived out of a helicopter. Skydiving options on Bora-Bora seem to be limited to one or maybe two companies, one of which is
Skydive Tahiti
. One of the other activities that teams did was search through sand castles on the beach. Check out this
write up of Matira Beach, Bora Bora
that the Travel Channel describes as Bora Bora's best beach. Lastly, teams canoed. For canoeing and other activities check out
Bora Bora Island Guide
for excursion information. For trip planning to Bora-Bora check out
Frommer's
(comprehensive guide to Bora-Bora),
Bora-Bora Traveler
(reviews and photos of resorts),
Life With Kristen & Ryan
(blog from a couple who vacationed in Bora-Bora), and "
A Little Piece of Heaven
" a nice blog write up on Bora Bora from a world traveler. For budgeting a trip to the French Polynesia area, take a look at Nomadic Matt's article, "
French Polynesia Travel Tips
". Also, check out
Overwater Bungalows in Bora Bora - A Complete Guide
which gives details on all of the over water Bora Bora options including links and estimated costs.
Have you visited Bora-Bora or another place in the French Polynesia islands?
Share your story!
Here is a quick write up from one of our members who visited nearby Tahiti, also located in the French Polynesian islands - this travel experience and other travel experiences can be found on our
Travel Experiences Map
.
| | | |
| --- | --- | --- |
| | "My wife and I took a vacation to what has been called by travel experts as the "most beautiful place in the world." Ten wonderful days in Tahiti, in French Polynesia in the South Pacific. I have been to 49 of 50 states, visited 24 countries on 6 of 7 continents, but nothing compared to exotic Tahiti and the lush green tropical islands and crystal blue waters. The driving force why we went to Tahiti was my wife. While at the Polynesian Cultural Center in Hawaii the year before, she heard the beat of the Tahitian drums and knew right then we had to visit Tahiti. The drums did it!! On the main island of Tahiti, we walked the entire city until we located the best jewelry store and my wife purchased a pearl that was actually recovered by a Tahitian diver in the waters nearby. A jeweler friend back in Ohio mounted it for her into a ring surrounded by diamonds. Moorea was even more beautiful. With no TV, radio or newspapers, we enjoyed the quiet of our private cottage right on Cook's Bay, and swam in the waters and paddled an outrigger in the Bay. There were more stars at night than you can imagine. We were half way around the world, and the 10 magnificent days seemed like we left earth. It was the best vacation in our lives to the "most beautiful place in the world." Just seeing French Polynesia made us believe there is truly a paradise on earth, and not just on the Travel Channel." | |
You might also like...