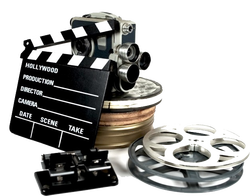 I enjoy the movies. Within minutes of sitting in an otherwise dark, nondescript room one can quickly be taken to another place, another world. That is how many people get to "go" to many places they otherwise would never have the opportunity to go. Now, for us Travel Goal Getters, we watch movies and want to GO there. Some of these are truly spectacular sites such as the prairies of
Dances with Wolves
or the hills from the
Sound of Music
. Others are quite comical like the house with the leg lamp from
The Christmas Story
or the residence of the
Grumpy Old Men.
Travel Goal Getter has compiled a list of just some of these movie or TV locations per state and around the world
. Our list is not meant to be an exhaustive list - there are just too many! If you need more, check out
www.movie-locations.com
or
www.movielocationsguide.com
. Both of these sites allow you to search by movie name to find out information about the movie and its filming locations.
Please contact us
if you know of a site we should list on this page. Thanks to member Garry Ardnt for sharing the many movie locations he has been to!
If you like movie paraphernalia, don't forget about
Planet Hollywood
restaurants located in Cancun, Paris, Kuwait, Las Vegas, London, Myrtle Beach, New York, Niagara Falls, and Orlando. Some movie buffs also like to see the stars in wax at
Hollywood Wax Museum
, Hollywood or
Madame Tussaud's
London Wax Museum.
If you complete a travel goal of visiting something movie-related in each state, let us know you might be a Travel Goal Getter
Record Holder
!
Travel Goal Getter's On Location - Movie and TV Filming Locations
Author: Alicia