Over the past several weeks, the world's top travel destinations have battled it out in our inaugural
2013 Top Travel Destinations Bracket
. Teams were initially seeded based upon UNWTO inbound visitor statistics (i.e. the top 4 travel destinations in the world were the #1 seeds, the next four the #2 seeds etc.). The winning countries from each round were determined by the actual NCAA Men's Basketball Tournament results (i.e. if the #9 seed beat the #1 seed in the actual basketball tournament, then the equivalent #9 seeded country would also advance). UNWTO reports that the final two countries, China and Thailand had International Tourist Arrivals of 57 million and 19 million, respectively.

We are now down to our final match-up and we need your help to pick the winner! If you had to pick, where would you like to visit more, China or Thailand? We will announce the winner on Monday after the real game has concluded.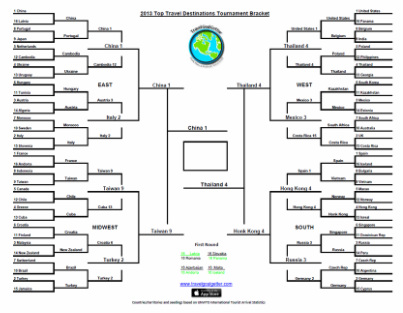 You might also like...