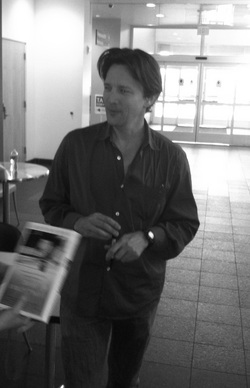 Andrew McCarthy, Cheyenne, WY, April 27, 2013.
Andrew McCarthy, the famed actor of 80's movies
Pretty in Pink
and
St. Elmo's Fire
(among others)
, is also a travel writer and Editor-at-Large for
National Geographic Traveler
. I was fortunate to hear him speak in Cheyenne, Wyoming to discuss his
New York Times
best selling book
The Longest Way Home
, published September, 2012. I started reading the book and if the rest of it is anything like the prologue, it will likely be one of the best books I've read in several years. CBS News Travel Editor and expert Peter Greenberg's
website
named The Longest Way Home the #1 book for travelers last year.
Andrew's candor and personal insights on travel captured my attention and provided travel inspiration. He explained that after reading the book
Off the Road
by Jack Hitt, he was motivated enough to set out and walk through Spain on a solo trek of his own. It was on this walk that he had his moment of realization; travel helped him figure things out (in his life) and eventually overcome fear. As he put it, "Travel obliterates fear." This moment of clarity led to additional world travel, numerous stories about his travels, and eventually the framework for his book.
"Travel changed me and it will change you." -
Andrew McCarthy
Andrew reminded the audience of an important benefit of travel; travel changes our lives in profound ways by exposing us to the world through new experiences. He also challenged us to seek travel moments that inspire, nurture, and provide "ah-ha" moments, instead of idle vacations that consist of lounging at a pool all day at a nondescript resort. He actually prefers the unexpected speed bumps of travel as he says they often provide the best stories to write about. Andrew explained, "Mishaps are when the adventure starts and an uneventful trip is a snooze." He gave examples such as the time he was detained in Ethiopia after a misguided attempt to explore a church a little too long and the time he got a flat tire on his honeymoon in a very remote part of Mozambique. These unexpected experiences can often eventually lead to great stories.
I appreciated Andrew discussing traveling with his kids and the belief that any world experience is wonderful for kids. He explained that children need to see poverty to appreciate the lives that they lead. I especially connected with his notion that travel is important so children find out how people live differently in the world. This will be an important focus as Travel Goal Getter develops a travel scholarship program for low-income children who would otherwise never have the opportunity to travel outside their own community.
There were three things that really stuck with me after he spoke. First, Andrew strongly believes that America's preconceptions of how people from other countries view us are completely wrong. He said that people abroad love Americans and that they are able to differentiate between the people and the government. Although foreigners may disagree with the policies of America, they love the travelers themselves and are very open and helpful to Americans. Andrew said, "I've never felt like I have to pretend to be Canadian (instead of American)." Second, Andrew has never attached "home" to a place. Instead, he attaches "home" to his experiences. Third, he has found that the less money he spends when he travels, the more authentic the experience.
"By being vulnerable when we travel, we are able to just be ourselves." - Andrew McCarthy
Andrew's travel inspiration is infectious. I can't wait to finish reading his book; it may just be the inspiration for me to take my own walk.
Author: Eric
You might also like...