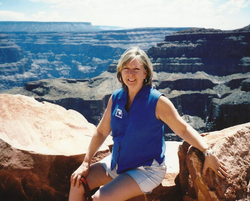 I'd like to introduce you to Travel Goal Getter Member Martha Lewis. Martha's story isn't about visiting all fifty states on a whirlwind trip. Instead, it's about many different trips over the years that culminated in her realization that only a handful of states to visit remained. It was at that moment of realization that Martha added "visit all fifty states" to her bucket-list, making a commitment to see them all.

But for Martha, a native of Virginia, it has never been about putting a foot down in a state and calling it good; for her it's about the experiences. From eating scrumptious road side lobster pot meals in Maine, cruising Alaska, hiking in Hawaii, taking in the Black Hills of South Dakota from the back of a motorcycle, and train trips to Florida and New York, her experiences are varied. Over the years she's repeated visits to some of her favorite states making sure to seek out new experiences each time. For her fiftieth state, Louisiana, Martha waited until Mardi Gras this year, met up with several friends and had a non-stop week of parades, tours, food, beads, and she even held an alligator! Now that's how you wrap up all fifty states!

Martha explained, "I've learned more about the United States by traveling than I ever learned in school. I've made new friends, have wonderful memories, and lots of pictures. It's really neat to be watching a movie or TV show and recognize a place that you've actually been to."

Congratulations on All Fifty States, Martha! May your travels ahead be as rewarding and plentiful as those in the past!

Author: Eric

You might also like...