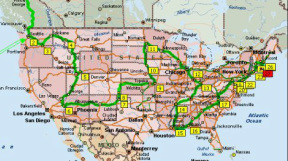 Congratulations to member Gary Flanagan for completing his THIRD All Fifty States trip in June! Gary's first trip in 2001 took him to All Fifty States in 43 days with other family members. His second trip, with Edmund and Pete Flanagan in 2003, was a fundraising trip for victims of the Station Nightclub fire in Rhode Island and took just 8 days, 20 minutes! His last trip brought him to 50 states and 51 capitols in 33 travel days. Gary has raised funds on many of his trips helping support and bring awareness to Catholic Charities USA, Catholic Charities of East Tennessee, The Sgt. Dennis J Flanagan Foundation, The Women's Care Center of Sevier County, Hoops for Heroes, The Station Fire Memorial Fund, and Ronald McDonald House Charities.

We are proud to have Gary as a member and please help us congratulate him on his incredible achievement! Way to go Gary!
Author: Eric

You might also like...