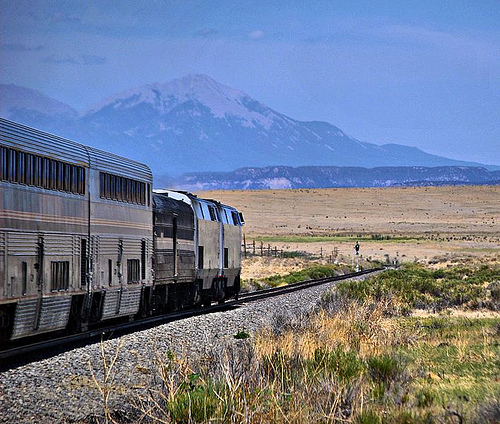 You are taking the train across the country? Are you crazy? How romantic.... How long will it take? Is there food on the train? When we began making plans to take the train across the country this December, people were curious because most had never spoken with anyone who had taken a cross-country trip via the train. Our friends were anxious for us to be the guinea pigs! Well we did it - 32 hours on the train there and 32 hours back. Watching the landscape of America continuously pass before our eyes was an unforgettable experience that is difficult to portray with words - you just need to do it.
Here are the nitty-gritty details that may help set your expectations - train travel has a way of its own.


planning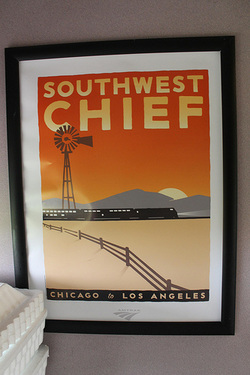 Our trip was mostly about getting from Point A to Point B, but for someone who loves to sight-see, getting the most out of the middle was important. I quickly learned that traveling by train is not the best way to do this. Most of
Amtrak
's cross country routes run just one train a day. Stops along the route are quick - no time to get off and sight-see. If you want to stay longer to visit a tourist site you will have to get off, spend the night and get on the train the next day. To make it more difficult, train stops are often not located in tourist areas so you have to arrange for transportation for you
and
your luggage
and
it may not be an ideal time of day. You will have to book separate legs on your itinerary when you purchase your ticket, which may or may not cost you more money but will definitely take you more time.
Amtrak's website
is fairly easy to use to look up routes, schedules, etc. Train fares vary as do airfares - but generally train fares are only just slightly less than flying with airlines. So with meals, the train is not necessarily a cost-saving adventure. Sleeper cars can be expensive, adding another $1,500 to the trip each direction. Children 15 and under ride for half price. AAA members receive a 10% discount so it might be worth joining if you are not a member already.
That all being said, we couldn't wait to ride the train. The anticipation of boarding the train was way more exciting than just hopping in our mini-van. The allure of traveling a different method made the planning of the trip well worth it. Besides - we didn't have to be concerned about the weather or directions!
Our train adventure was aboard the Southwest Chief which originates in Chicago and traverses through seven states (Illinois, Missouri, Kansas, Colorado, New Mexico, Arizona, California) and ends in Los Angeles. After taking a connecting train - The Missouri Runner from St.Louis to Kansas City, our family boarded the Southwest Chief train at the Kansas City Union Station in Missouri and got off in Kingman, Arizona.
eating on the train?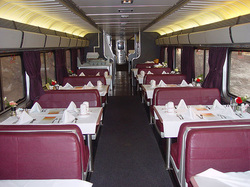 If you ride the length of the trip from Chicago to Los Angeles you will have 5 meals on the train - Dinner, Breakfast, Lunch, Dinner, and Breakfast again. The train has a dining car and a café car or you can bring food with you. If you have a sleeper car your meals are included in your train fare.

Since we boarded after dinner, our first meal on the train was breakfast. We were so glad we packed some juice, fruit, and pastries so everyone could just easily eat when we woke up. We didn't have to make sure the Cafe Car was open (which was oddly closed during some meal time hours) or wait in line.

Next was lunch in the Dining Car. An attendant had come through each car that morning asking passengers to make lunch or dinner reservations if they were interested. They made an announcement about 5 minutes before the reservation time telling the passengers to come to the Dining Car. When we arrived (a short walk of 2 train cars), the dining car was a welcome sight because it was so different from the other cars - it had its own special ambiance. The tables were set with tablecloths and the servers were in uniform and had the hustle and bustle of a busy restaurant. Our hamburgers, chili and chips were pretty good and the servers were nice, but mainly it was just the fresh change in scenery. Breakfast prices range from $7.50 (scrambled eggs) to $11.25 (made to order omelet) Lunch selections range between $9 and $13 (hot dogs, hamburgers, sandwiches). Dinner meals options are $16.50 (chicken/vegetables) to $25.75 (steak). The children's menu is the same for lunch and dinner. $7.00 for a pizza, hot dog , chicken tenders, or macaroni and cheese. Lunch is less expensive, but I think the ambiance would have even been better at night - there is something romantic about eating in the dining car. Alcoholic beverages are available.

We had dinner in the Cafe Car. The Café Car offers a large variety of snack bar type food such as chips, snacks, burgers, and hotdogs. There is no kitchen so any heated items are just warmed up in a microwave. My daughter ordered spaghetti so we watched the attendant grab the Bertoulli frozen dinner from the freezer, nuke it in the microwave, then hand it to her. So set your expectations ahead of time - calling it a "Cafe Car" may be a little misleading. Prices are $3-6. No ambiance here but you can curb your appetite.

Most people bring some food on the train - for meals or snacks. Amtrak regulations state that you can bring a cooler as long as it is smaller than 12 x 12, however, we saw several people carrying small coolers that were larger. Each seat has a pull down tray and a each car has a garbage receptacle. There is a water spigot and disposable cone cups in each car as well. The refillable water bottles we brought along were to hard to use with the spigot without spilling - so next time I would bring some 8 oz cups that we could fill and keep at our seats.

On our trip eastbound, the Chief stopped in Albuquerque at 4:00 p.m. for about 45 minutes for a crew change. This gave us enough time to get off and have an early dinner in the train station which is located right next to the platform. We enjoyed some great burgers straight off the grill with french fries. Some regulars had recommended this to us since the food is a little less expensive, tastes better, and again a change in scenery!
can you get off the train at the stations?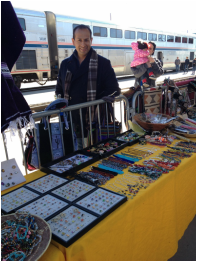 Stops are like subway stops ….. the doors open…people get off… people get on… off the train goes. On some stops the conductor will announce that it is a smoking stop – so you can get off the train and stand on the platform. There were some smokers, but many others who were just getting a breath of fresh air. There are only two stops that you might be able to go beyond the train platform - Albuquerque and Kansas City. In Albuquerque vendors set up along the train platform selling Indian and Southwest goods. I purchased a Navajo blanket and a sand painting but was also tempted by all the silver and turquoise jewelry. The vendors are right next to the train so you can hop back on when it is time.

The Kansas City stop is not quite as convenient. It typically stops there around 10:00 p.m.westbound and 7:30 a.m. eastbound and the station is at least a 5 minute walk from the platform. You must take the stairs or the elevator up to the station and brave the elements -- OOH in January it was COLD! If the conductor allows you and you are up to it, it is well worth it to take a quick trip to the station to experience the beauty of the station's architecture and step back into history. We traveled at Christmas. The interior was impressive -almost magical with hanging lights, a Christmas tree, and music playing on a player piano. The bathrooms off the big hall are the high ceiling large bathrooms you see in the movies. Look for the bullet holes from the 1933 Union Station Massacre outside the front entrance of the train station. The shoot out between mobsters, FBI agents and police officers allegedly left the marks. All of the stations have an interesting history - but the preservation of the Kansas City station lends you to think about the past - imagine it full of of World War II soldiers on their way home. In 1945 more than 678,363 passengers went through the station. Train was the way to travel back then! Now unless there is an event going on, the station will seem empty.
could you get any sleep? how were the seats?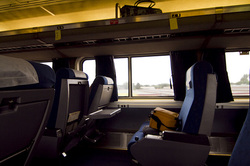 Don't worry – train seats are not like airline seats! There is plenty of room between your seat and the seat in front of you. No bumping your knees. A foot rest is attached to the seat in front of you so you can stretch your legs out. The seats recline a little farther than an airline seat and you can pull out a leg portion to rest your legs on too. Now – I don't want to mislead you --- sleeping in coach is not like sleeping in a hotel room. You are sleeping sitting up in a room full of people. It can only be so comfortable. However, the train noise drains out all but the loudest of snores and the gentle vibrating of the train helps lull you to sleep. The lights don't go entirely out – so if you are one who likes total darkness when you sleep you will want to bring an eye mask. Our neck pillows and blankets made all the difference. Amtrak offers some for purchase - but there is nothing like your own comfy blanket - it is worth lugging along for the trip. We used them throughout the day - not just for sleeping at night. Set an alarm to go off prior to your stop if you are going to be sleeping. An attendant told us that we would be woken up 20 minutes prior to our stop – but each time we were told about 5 minutes before the stop so we had to wake up and pack up in a hurry!
How were the bathrooms?
Worry – these are like airplane bathrooms. They start out clean but passenger use dirties them up in a hurry. Most are tiny - difficult to turn around in, but there are a few larger bathrooms that have a changing area and are handicap accessible. Even though we were on the train for over 24 hours, and we did pack clothes to change into, we did not change. In fact we didn't notice anyone who changed clothes. As I said the bathrooms were small and ended up not so clean – so we opted to keep our train clothes on for the duration and took nice long showers when we got to our destination.


where do you put your luggage?
There is no luggage service except at main stations so if you are getting off or on anywhere else you are responsible for your luggage. If you are riding coach when you board the train there is a luggage section directly when you step on to the train. You can store larger suitcases there. You will go upstairs to your seats in a somewhat narrow stairway. If you can carry your luggage you can bring it upstairs with you - there was plenty of overhead baggage space. There is plenty of room for typical size carry on suitcases. Regardless of where you put it you can access it at anytime. Amtrak has regulations on its website regarding weight and size, but our our trip it seemed that it was more of a "if you can carry it - you can bring it' policy. There are no regular security inspections or weight scales. According to Amtrak these are done at random.
Did you get bored on the train?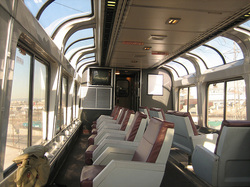 No - but we also love long road trips so I don't know if everyone would answer this question the same way. It was the ultimate lock-in. There is nowhere to go but spend time together. Sure we could each be reading a book or listening to music by ourselves - but periodically someone would would call out "Hey, look at that?" and we would all look up and talk about something or the other. Someone would eventually want to stretch their legs and ask who wanted to go walk around and visit the other cars. Although there was a nice view from our regular seats, the observation car had larger windows and the seats faced the windows so we would focus more on the scenery. We had heard the view between Trinidad, CO and Las Vegas, NM was especially scenic so we made sure we were there for that part of the trip. The Raton Pass was indeed absolutely beautiful and the attendant pointed out few things of interest as we went through. We were also fortunate to see a herd of elk on one of the hillsides. Eastbound, the section between Winslow, AZ and Gallup, NM has some colorful rock formations, with some cave dwellings and Indian teepees. Gazing at such spectacular scenery and the way the seating is arranged, encourages people to strike up a conversation with the people next to them. We met a nice woman who ended up playing a round of Old Maid with us later.

Another place to spend some time besides our regular seats was the Cafe Car. You don't have to eat at the Café to sit at one of the booth tables. The larger tables make a great place to spread out a little more or play a group game of cards. I loved teaching my daughter how to play solitaire with real cards. When in "real-life" do we have time to do that? My kids and I used the entire table playing an Axis and Allies game they had gotten for Christmas.

The rest of the trip was spent reading books, drawing, making bracelets with Rainbow Loom, playing Tangoes & Rush Hour, taking turns playing the game of LIFE on the iPad, and daydreaming looking out the window . Every seat had an outlet so electronics could be charging throughout the trip. The Southwest Chief did not have WiFi although I imagine this might change as Amtrak offers WiFi on some of their other trains. This was slightly frustrating as well as AT&T had only off and on coverage.

How was the customer service?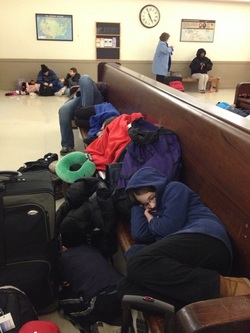 No one asked about this but I'll tell you.... unless you are in first class or with a sleeper, customer service is pretty much non-existent - you are on your own, but attendants are there if you need them. I guess I have been spoiled by flight attendants. On the train no one came around asking if we were having a nice trip. No one offered us free drinks with and peanuts or pretzels. No one told any jokes over the intercom. We had one staff member in particular that was very rude to everyone by barking orders "Get on the train. Move.", but overall the attendants were nice. There just wasn't a lot of staff on board to assist all of the passengers. They had enough responsibilities focusing on making sure the trip ran smoothly and people got from Point A to B.

The Southwest Chief was late coming into Kansas City by 3 hours. Apparently there was a mechanical delay before the train left Chicago. Since we were transferring from another train we had to wait in the station for three hours from 11:00 p.m. to 2:00 a.m.. Not ideal to kill time in the middle of the night. We used our neck pillows and blankets to make ourselves as comfortable as possible on the hard benches in the brightly lit passenger waiting room. It was quiet except for the playing of a movie at full volume by an inconsiderate passenger who was unaware that the entire room was trying to catch a few Zzzzzs. When we finally boarded around 2:30 a.m. I expected the Amtrak employees to show some sign of compassion. "Sorry, for the inconvenience. Sorry for the wait," but instead we were shuffled on to the train as if we were the ones that were causing the train to be behind. The impact of our delay was compounded because Amtrak does not own the tracks that it rides on, causing further delays as we wait for freight trains to pass by during other parts of our trip. Delays are bound to happen, but it would have eased the pain if Amtrak made any effort to make the situation better even with a simple "Sorry for the delay" announcement.

For as many people that were on the train, the train was kept relatively clean. The trash cans were emptied and tables were wiped down. I felt comfortable enough to wear my socks around in our coach car. The bathrooms were the only part that seemed difficult for the staff to keep up with - but I blame that on passengers who can't clean up after themselves. At the crew shift change in Albuquerque the windows were washed - so we always had a clear view out the window.

Will you ride the train again?
Definitely. Tomorrow – no. Next month - no. Next year – no. It was a unique experience that we will definitely treasure and remember forever, but we will need some time to build up our train endurance before our next train adventure. I'd like to try the
Northeast Regional
which will be a totally different experience because the trains run multiple times a day so there are more opportunities to get off and back on. I am also tempted to ride the the
Empire Builder
which runs close to the northern border of the United States - I imagine the scenery of Montana and North Dakota will be beautiful. For now my train dreams will be about the
Southwest Chief
, the memories of playing Old Maid in the Cafe Car, listening to the quiet click-clack on the tracks as beautiful America passes by the window.
For more about train travel, read
Travel Goal Getter - Visit All 50 States by Train.
Author: Alicia and Karina
Southwest Chief picture used under creative commons by Steve Wilson
roberthuffstutter
.
Southwest Chief poster used under creative commons by
ironypoisoning
Seats on Amtrak used under creative commons by
fredcamino
Observation car used under creative commons by
sheilaellen
Dining car used under creative commons by
rickpawl
All other photos by Travel Goal Getter