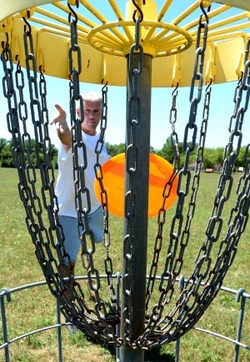 On a
recent post on sports-related travel goals
we listed Larry Kirk's amazing accomplishment of playing disc-golf in all 50 states - twice. We received an update from Larry that he has played a round of frisbee golf in all 50 states - not one time, not two times, but THREE times. He has outdone himself! His most recent tour was an ambitious 50 states in 50 days.
Larry began the trip with a flight from California to Anchorage. After a few days he flew direct from Anchorage to Honolulu. When he returned to the mainland he began his 11,000 mile, 44-day road trip to the other 48 states. His last stop was in South Carolina at the United States Disc Golf Championship.
Along the way he shared his passion for disc golf with everyone he had contact with. He met the governors of Arkansas and Wyoming and a 4-star general. He quickly made friends with other disc golfers who joined him for games along his journey. He spread the word of his endeavor at YMCAs and restaurants. Despite a few hiccups of a couple of flat tires and having to back-track to pick up a left driver's license, he and his Honda Accord persevered and completed the quest on schedule.
Larry documented his trip by keeping scorecards and receipts, and of course by taking lots of videos and pictures. Check out his Facebook page
Disc Golf Flyer
to learn more about his travels and the sport of disc golf!
The journey is not over for the disc-golf traveler. Larry wants to continue to spread the word about disc golf and travel our great country again. He may be coming to play at a course near you!
Larry Kirk's 2013 - 50 State Tour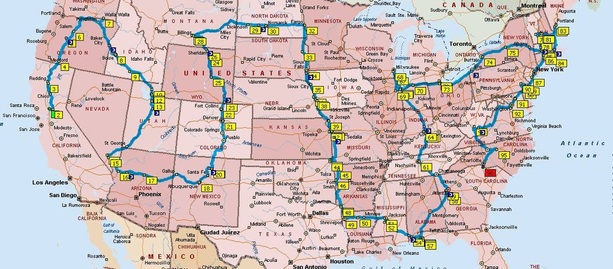 note: Alaska and Hawaii were visited first via a flight out of California. Then the road trip began..........
Larry's Mission in his words:
"My love and dedication for disc golf is so strong that I have spent many miles traveling down the States to play in different disc golf courses. It is during those trips that I have realized many people are not yet aware about this disc golf sport, also known as Frisbee golf. For this reason, I have made it my mission to promote disc golf and be an ambassador of this sport. Reaching out to people is natural to me, as I enjoy making new friends and even meeting strangers and sharing what disc golf is all about. I want people to know this is a cool sport that anyone can enjoy and at the same time it promotes wellness."