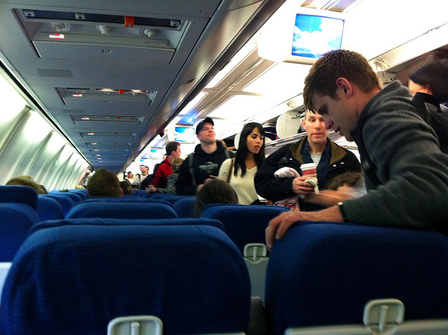 This is serious travel business. It can be the difference between a miserable flight or a productive one. Restless hours or a sleep-filled trip. Ira Goldman, a 6'3" traveler invented the Knee Defender gadget to prevent being bumped in the knees by the seat in front of him on the airplane. Two little plastic clips attach to the seat-back table to keep the seat in front of you in an upright position. Fantastic. You use the clips so you no longer worry that the seat is going to abruptly come back on your laptop, or slam your knees at any moment. However, not so fantastic for the person in front of you that likes to recline, just that little bit, for a more comfortable position during the flight. This obvious conflict made the news this week when on a
United flight, a fight ensued after one passenger did not want a fellow passenger using the Knee Defender on her seat. This has prompted most airlines to ban the product while others are considering no longer having reclining seats.
Our take, regardless of your view on the issue, is that we wish everyone would be respectful to other passengers and work it out so we all can have a nice flight.
Airlines Ban the Knee Defender, because that's Clearly their Largest Concern
,
Huffington Post
Plane diverted as Passengers fight over Seat Reclining
,
The Guardian
Should the Knee Defender be Banned
,
CNN Travel
Knee Defender can be purchased for $21.95 at
www.gadgetduck.com
(remember you may not be able to use it anymore!)
Airline Seat photo used via creative commons by
Matthew Hurst
.
Author: Alicia