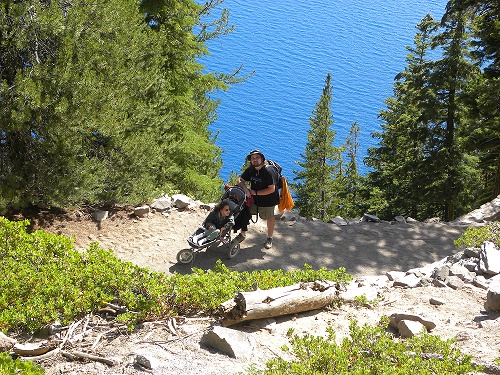 Need some travel inspiration? Look to Chris Kain and his amazing travelling daughters Kellisa and Laurel. They are on a 50 state quest to pushike in every state. Pushiking? Never heard of it? Me either. It isn't in the dictionary or even on Wikipedia....yet. Chris uses the term "pushiking" to describe how he travels with Kellisa who is in a wheel-chair. He pushes her while hiking. Sounds simple enough, but I would venture to say it is nothing like simple! Some hikes they go on are ADA compliant but they tackle trails of varying difficulty as in the picture above at Crater Lake and below at Voyaguers National Park in Minnesota.

Chris had always been interested in travel and remembers at age 8 receiving a book he treasured from his "Nana" titled "Natural Wonders of the World". However, his current 50 state goal began under precarious circumstances. In 1999, his daughter, Kellisa, was born 15 weeks premature with significant hydrocephalus (water on the brain). Her twin sister, Kirsten, had already passed away and Chris whispered into Kellisa's incubator, "Please fight to live. We need you to survive! I will provide you with the most fulfilling life as possible." During the difficult days in the hospital, Chris came up with the idea to someday take Kellisa to all 50 states by her 18th birthday. Thinking about this goal allowed him to look beyond her 2 pound, 1 ounce body to what the future might someday hold.
Kellisa kept her end of the promise. Her father is now doing what he can to keep his. The future is here. Kellisa will turn 18 in May 2017, so he has mapped out how to pushike with her in her remaining states on spring breaks, summer, and holiday vacations. This travel story is even more inspiring in that Kellisa's sister, Laurel, accompanies them on the trips. She, herself, will complete all 50 before she turns 8 years old, which would be a Travel Goal Getter record for the youngest to complete all 50.
We wish Chris, Kellisa, and Laurel the best of luck on the cusp of their journey. Check out their website at
www.3wheelsburning.com
which will be updated with their latest travels soon. They are an inspiration to us all! We can't wait to welcome them officially into the All Fifty Club as 50 staters in 2017!