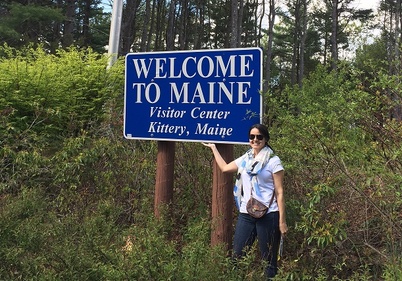 Congratulations to Paige Bernick who has visited all 50 by age 30! She finished up last month by crossing the state line into Maine.

Here are some of her favorite travel memories:

One trip was to Northern Idaho and Montana on a "girls trip" with college friends. They flew into Spokane, Washington, spent the night in Sandpoint, Idaho and drove to Whitefish, Montana and stayed in a lovely bed and breakfast. They drove on the Going-to-the-Sun Road and toured Glacier National Park and spent a day on Lake Pend O'rielle.

Another wonderful adventure was to.Mount Rushmore and the Badlands that she went on in middle school with her brother, mother, father, and two grandmothers. She also loved driving up the Pacific Coast - and like many she wants to go back!

This Memorial Day weekend she and her fiancé visited her final three states.They flew into Boston and rented a car and drove to Nashua, New Hampshire in hopes that they would "accidentally" run into a presidential candidate. (They didn't.) On the second day they drove to Brattleboro, Vermont which was quaint, on a river, with tons of bookshops. They had a beautiful drive across rural New Hampshire, then arrived in Kittery, Maine, where she took the ceremonial photo above marking her last state. They spent more time exploring Portland, Cape Elizabeth, Freeport, Kennebunkport and Portsmouth. Portsmouth was the biggest surprise for her as the downtown area appeared to be very industrial, but it turned out to be a fun stop with tons of restaurants and historical markers.


Paige credits her family and friends with helping her to get to all 50 before she turns 30 later this year.
Congrats Paige! May the travels continue!